CC-Link partner product information
CC-Link|Slave|Inverter・Servo systems
Sumitomo Heavy Industries,Ltd.
Multiple-axis Control Drive System for System MX Line Systems
This series was developed on the new idea that a CPU for controlling the speed and current of vector inverters and an axis-to-axis control CPU for systems are integrated into a single main control unit (MCU).
Various multiple-axis drive systems can be configured in combination with power amplifier units (PAUs).
Feature
Completely synchronous multiprocessing
An MCU can be equipped with up to nine integrated high-speed RISC type CPUs with which the vector control and calculation of each axis and line system control and calculation, from unwinding to winding, are centrally processed by complete synchronization. The system is sure to offer ever-higher performance.
Axis-to-axis communication at high speed
Control data can be communicated between axes by memory-to-memory communication at high speed, completely solving the past problem of communication waste time caused by a network.
Open network (CC-Link)
The drive system can be easily connected to the CC-Link widely applied in the field of factory automation (FA). Additionally, the protocol thoroughly supports an intelligent device station capable of communicating messages with a PLC (first in the industry). The CC-Link interface board alone is also available.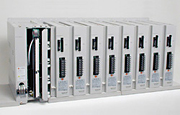 | | |
| --- | --- |
| Station type | Intelligent device station |
| Number of stations occupied | 1 or 4 stations |
| Protocol version | |
| External dimensions | 390(H) × 170(W) × 333(D) |
| Mass | 12 kg |
| Standard Price | |
Search for a different product
CC-Link Partner Association (CLPA)
Members Site