CC-Link partner product information
CC-Link|Device|Gateway
panasonic Industrial Device SUNX Co
SL-GU1-C S-LINK Gateway Controller Compatible with CC-Link
SUNX has developed an S-LINK gateway controller compatible with the CC-Link that is in widespread use all over the world.
It can further reduce wiring connected to the CC-Link.
Feature
By linking the CC-Link for long-distance transmission and S-LINK for multiple-point transmission, a network realizing both long-distance transmission and multiple-point transmission can be constructed.
Wiring distributed bit-basis I/O units, such as sensors and switches (which are the majority of connecting units) with S-LINK ensures effective wire saving. S-LINK crimping connectors offer excellent workability.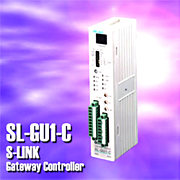 | | |
| --- | --- |
| Station type | Remote device station |
| Number of stations occupied | 2 to 4 stations |
| Protocol version | Ver.1.00 |
| External dimensions | 35 (W) × 170 (H) × 72 (D) |
| Mass | Approx. 210 g |
| Standard Price | SL-GU1-C 60,000円(税別) |
Contact
[Japan]

2431-1, Ushiyama-cho, Kasugai, Aichi 486-0901, Japan
Panasonic Industrial Devices SUNX Co.,Ltd.
Techinical Service: Toll Free 0120-394-205
Techinical Service: Toll Free 0120-336-394(FAX)

[China]

name : Panasonic Industrial Device Sales (China) Co., Ltd.
phone :+86-21-2322-7777
address:Floor7, China Insurance Building, 166 East RoadLuJiaZui,
Pudong New District, Shanghai,200120, China

[Korea]

현지법인 파나소닉디바이스세일즈코리아㈜
서울시 강남구 테헤란로 114길 38 동일타워 4~6층
Tel:02-2052-1050

대리점 텔콤씨앤에스(주)
서울시 구로구 경인로 53길 15 구로중앙유통단지 라동 1715호
Tel : 02-522-9445




[Taiwan]

name : Panasonic Eco Solutions Sales Taiwan Co., Ltd.
phone : +886-2-2581-6020
address:15F., No. 44, 2nd Section, Chung Shan North Road, Taipei, Taiwan

[Europe]

name : Panasonic Electric Works Europe AG(European Headquarters)
phone : +49-89-45354-1000
address : Robert-Koch-Strasse 100, 85521 Ottobrunn,Germany

[US]

name : Panasonic Industrial Devices Sales Company of America(Headquarters)
phone : +1-908-464-3550
address:Two Riverfront Plaza, 7th Floor, Newark, NJ 07102-5490

[India]

name : Panasonic India Pvt.Ltd. (Gurgaon Office)
phone : +91-124-4751300
address:12th Floor, Ambience Corporate Office, Tower-2, Ambience Island, NH-8, Gurgaon-122002, Haryana, India
URL: http://www2.panasonic.co.jp/id/pidsx/j/company/index.html

Search for a different product
CC-Link Partner Association (CLPA)
Members Site