CC-Link partner product information
CC-Link|Device|Gateway
HAKARU PLUS CORPORATION
C1-GW Protocol Converter for CC-Link
This protocol converter is designed to connect the RS-485 communication line of Takemoto's power remote I/O to the CC-Link.
Feature
The transmission of power data on five-element type multiple converters, etc., can be centralized on the CC-Link.
The converter operates the remote input/output and registers of the master station according to the command/response procedure of a slave station. In a send/receive trial, data of up to 16 words can be read from the slave station.
The converter does not require any tool software for setting functions.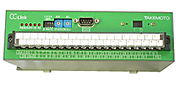 | | |
| --- | --- |
| Station type | Remote device station |
| Number of stations occupied | 4 stations |
| Protocol version | |
| External dimensions | 200(W)×60(H)×126(D) mm |
| Mass | 750 g |
| Standard Price | 75,000円(税別) |
CC-Link Partner Association (CLPA)
Members Site