CC-Link partner product information
CC-Link|Device|Gateway
TAIYO,LTD.
AG22-C1 CC-Link UNI-WIRE HX Gateway
Gateway designed to connect UNI-WIRE HX system to CC-Link Network
Feature
This gateway can connect the UNI-WIRE HX which has proposed unique wire saving system which uses open network CC-Link as a sensor bus. A special program is unnecessary in order to operate a gateway. Address translation is only carried out inside. A controller is seamlessly connectable with a sensor.
As for the UNI-WIRE HX used as a sensor bus, wiring can use the wiring method of various sorts, such as a T junction and multidrop. Requires no particular types of transmission cables for data communication. General purpose electric cables or signal transmission cables will work.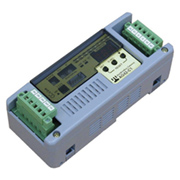 | | |
| --- | --- |
| Station type | Remote device station |
| Number of stations occupied | 4 stations |
| Protocol version | Ver. 1.10 |
| External dimensions | 140(W)×58(H)×57(D) mm |
| Mass | 180 g |
| Standard Price | 67,200円 |
Contact
[Japan]

Department:Research & Development Dept
Phone:+81-6-6340-1101
FAX:+81-6-6340-1164
URL: http://www.taiyo-ltd.co.jp/

Search for a different product
CC-Link Partner Association (CLPA)
Members Site