CC-Link partner product information
CC-Link|Device|Gateway
ANYWIRE CORPORATION
AG42-C1 AnyWire-DB Gateway Compatible with CC-Link
The AnyWire wire-saving system complements open network CC-Link systems with flexibility.
Feature
The AnyWire wire-saving system complements a system that uses CC-Link. You can save wires for the I/O component at the sensor or actuator level equivalent to a sub-network in the control system. The system is flexibly expanded.
The full quadruple dual-bus system, the basic structure of the AnyWire-DB series, can perform two different types of data transmission, bit ON/OFF control on the bit-bus and analog/parameter data transmission on the word-bus, using a single transmission line.
By introducing the AnyWire wire-saving system, you can save wires, man-hours, and space. Free branching is available, including T-branch, multi-drops, and trees. Insulation displacement connectors enable simple and easy connections that leave no rubbish during wiring. You can flexibly use general-purpose electric wires for wiring. All these and others achieve excellent workability and maintenance performance.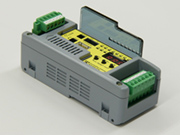 | | |
| --- | --- |
| Station type | Remote device station |
| Number of stations occupied | 4 stations |
| Protocol version | Ver. 1.10 |
| External dimensions | 57(W)×54.5(H)×140(D) mm |
| Mass | |
| Standard Price | 60,000円(税別) |
Contact
[Japan]

Headquarters, West Japan Office
 1 Babazusho, Nagaokakyo-city, Kyoto 617-8550
e-mail : info_e@anywire.jp

[Korea]

현지법인 한국미쓰비시전기오토메이션㈜
서울특별시 강서구 양천로 401 강서한강자이타워 A동 9층
Tel:02-3664-8333

대리점 ㈜세봉
서울특별시 강남구 논현로8길 5 세봉빌딩 4층
Tel:02-2276-1331

URL: http://www.anywire.jp/

Mail: info@anywire.jp

Search for a different product
CC-Link Partner Association (CLPA)
Members Site