CC-Link partner product information
CC-Link|Device|Solenoid valve
CKD Corporation
EVT-T9GAR Slave Station for Thin Type Electropneumatic Regulators
This thin type electropneumatic regulator manifold can meet the requirements of PLC control with less wiring.
It is the optimum solution to pressure control in the semiconductor and precision processing fields and creeping valve control.
Feature
This is an analog input/output unit with four input channels for (pressure monitoring) and four output channels (for pressure control).
A slave station is capable of controlling up to four electropneumatic regulators.
Five baud rates can be set (156 kbps, 625 kbps, 2.5 Mbps, 5 Mbps, 10 Mbps).
Because of its high integration performance, the slave station can manifold up to 12 electropneumatic regulators (three slave stations).
All piping and wiring are connected to the front, realizing improved operability and space saving.
The DIN rail is installed either on the bottom or the back.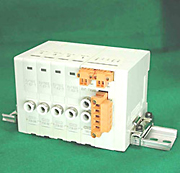 | | |
| --- | --- |
| Station type | Remote device station |
| Number of stations occupied | 1 station |
| Protocol version | Ver1.10 |
| External dimensions | 32 (W) × 75 (D) × 75 (H) mm |
| Mass | 145 g |
| Standard Price | Please contact us |
Contact
[Japan]

CKD CORPORATION
phone : +81-(0)568-74-1338

[China]

喜開理(上海)機器有限公司(CKD (Shanghai) Corporation)
Phone : +86-21-61911888
e-mail : ckdservice@ckd.sh.cn

[Korea]

CKD KOREA CORPORATION
Phone : +82-(0)2-783-5201
e-mail : ckdkorea@ckd-k.co.kr

[Taiwan]

台湾喜開理股份有限公司(TAIWAN CKD CORPORATION)
phone : +886-(0)2-8522-8198
e-mail : info@ckdtaiwan.com.tw

[Europe]

CKD EUROPE BRANCH
phone : +31-23-5541490
e-mail : info@ckdeu.com

[US]

CKD USA Corporation
phone : +1-847-648-4400
e-mail : ckdsales@ckdusa.com

[India]

CKD India Private Limited
phone : +91-(0)124-418-8212
e-mail : Imai@ckdin.co.in
URL: https://www.ckd.co.jp/english/

Search for a different product