CC-Link partner product information
CC-Link|Device|Solenoid valve
CKD Corporation
OPP6-*G Slave Station for Manifold Valves
This three-/four-port valve block manifold combines high integration, space saving, and high performance although it is compact and requires less wiring.
Feature
Although the slave station is compact and low, it offers 32 output points.
Since it is compact structure, the footprint can be reduced.
Five baud rates can be set.
An output mode can be selected in case of communication errors.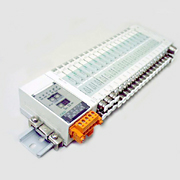 | | |
| --- | --- |
| Station type | Remote I/O station |
| Number of stations occupied | 1 station |
| Protocol version | Ver.1.10 |
| External dimensions | W=46.1, L=77, H=39.5 |
| Mass | |
| Standard Price | Please contact us |
Contact
[Japan]

CKD CORPORATION
phone : +81-(0)568-74-1338

[China]

喜開理(上海)機器有限公司(CKD (Shanghai) Corporation)
Phone : +86-21-61911888
e-mail : ckdservice@ckd.sh.cn

[Korea]

CKD KOREA CORPORATION
Phone : +82-(0)2-783-5201
e-mail : ckdkorea@ckd-k.co.kr

[Taiwan]

台湾喜開理股份有限公司(TAIWAN CKD CORPORATION)
phone : +886-(0)2-8522-8198
e-mail : info@ckdtaiwan.com.tw

[Europe]

CKD EUROPE BRANCH
phone : +31-23-5541490
e-mail : info@ckdeu.com

[US]

CKD USA Corporation
phone : +1-847-648-4400
e-mail : ckdsales@ckdusa.com

[India]

CKD India Private Limited
phone : +91-(0)124-418-8212
e-mail : Imai@ckdin.co.in
URL: https://www.ckd.co.jp/english/

Search for a different product