CC-Link partner product information
CC-Link|Device|Solenoid valve
CKD Corporation
OPP5-*G Slave Station for Manifold Solenoid Valves
This station offers high environmental resistance and friendliness, outstanding maneuverability in all processes from installation to maintenance, and upgraded performance in step with the times.
Feature
The station has a protective structure equivalent to IP65 (dustproof, jet-proof type).
The flexibility in wiring directions has been improved vertically and horizontally.
Input or output units can be connected.
The maximum number of input/output points is 32.
Five baud rates can be set (156 kbps, 625 kbps, 2.5 Mbps, 5 Mbps, 10 Mbps).
An output mode in case of communication errors can be selected.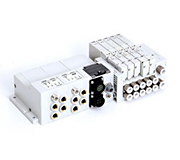 | | |
| --- | --- |
| Station type | Remote I/O station |
| Number of stations occupied | 1 station |
| Protocol version | Ver1.10 |
| External dimensions | W = 60, L = 130, H = 70 |
| Mass | |
| Standard Price | Please contact us |
Contact
[Japan]

CKD CORPORATION
phone : +81-(0)568-74-1338

[China]

喜開理(上海)機器有限公司(CKD (Shanghai) Corporation)
Phone : +86-21-61911888
e-mail : ckdservice@ckd.sh.cn

[Korea]

CKD KOREA CORPORATION
Phone : +82-(0)2-783-5201
e-mail : ckdkorea@ckd-k.co.kr

[Taiwan]

台湾喜開理股份有限公司(TAIWAN CKD CORPORATION)
phone : +886-(0)2-8522-8198
e-mail : info@ckdtaiwan.com.tw

[Europe]

CKD EUROPE BRANCH
phone : +31-23-5541490
e-mail : info@ckdeu.com

[US]

CKD USA Corporation
phone : +1-847-648-4400
e-mail : ckdsales@ckdusa.com

[India]

CKD India Private Limited
phone : +91-(0)124-418-8212
e-mail : Imai@ckdin.co.in
URL: https://www.ckd.co.jp/english/

Search for a different product