CC-Link partner product information
CC-Link|Device|Solenoid valve
CKD Corporation
OPP4-1G Slave Station for Manifold Solenoid Valves
This station adopts a slot-in system to connect the human- and environment-friendly next-generation block manifold solenoid valve MN4G series.
Feature
A slot-in system enables the slave station to be connected to and disconnected from valves.
The station is slim.
Five baud rates can be set (156 kbps, 625 kbps, 2.5 Mbps, 5 Mbps, 10 Mbps).
An output mode in case of communication errors can be selected (hold or clear).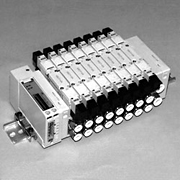 | | |
| --- | --- |
| Station type | Remote I/O station |
| Number of stations occupied | 1 station |
| Protocol version | Ver1.10 |
| External dimensions | W = 20, H = 60, L = 78 (mm) |
| Mass | |
| Standard Price | Please contact us |
Contact
[Japan]

CKD CORPORATION
phone : +81-(0)568-74-1338

[China]

喜開理(上海)機器有限公司(CKD (Shanghai) Corporation)
Phone : +86-21-61911888
e-mail : ckdservice@ckd.sh.cn

[Korea]

CKD KOREA CORPORATION
Phone : +82-(0)2-783-5201
e-mail : ckdkorea@ckd-k.co.kr

[Taiwan]

台湾喜開理股份有限公司(TAIWAN CKD CORPORATION)
phone : +886-(0)2-8522-8198
e-mail : info@ckdtaiwan.com.tw

[Europe]

CKD EUROPE BRANCH
phone : +31-23-5541490
e-mail : info@ckdeu.com

[US]

CKD USA Corporation
phone : +1-847-648-4400
e-mail : ckdsales@ckdusa.com

[India]

CKD India Private Limited
phone : +91-(0)124-418-8212
e-mail : Imai@ckdin.co.in
URL: https://www.ckd.co.jp/english/

Search for a different product