CC-Link partner product information
CC-Link|Device|Solenoid valve
CKD Corporation
OPP3-1G Slave Station for Manifold Solenoid Valves
This flat cable type slave station can be equipped with a wide variety of solenoid valves.
Feature
This slave station is the shortest in height among the series (when mounted).
Five baud rates can be set (156 kbps, 625 kbps, 2.5 Mbps, 5 Mbps, 10 Mbps).
An output mode in case of communication errors can be selected (hold or clear).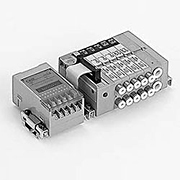 | | |
| --- | --- |
| Station type | Remote I/O station |
| Number of stations occupied | 1 station |
| Protocol version | Ver1.10 |
| External dimensions | W = 50, H = 41, L = 84 (mm) |
| Mass | |
| Standard Price | Please contact us |
Contact
[Japan]

CKD CORPORATION
phone : +81-(0)568-74-1338

[China]

喜開理(上海)機器有限公司(CKD (Shanghai) Corporation)
Phone : +86-21-61911888
e-mail : ckdservice@ckd.sh.cn

[Korea]

CKD KOREA CORPORATION
Phone : +82-(0)2-783-5201
e-mail : ckdkorea@ckd-k.co.kr


[Taiwan]

台湾喜開理股份有限公司(TAIWAN CKD CORPORATION)
phone : +886-(0)2-8522-8198
e-mail : info@ckdtaiwan.com.tw

[Europe]

CKD EUROPE BRANCH
phone : +31-23-5541490
e-mail : info@ckdeu.com

[US]

CKD USA Corporation
phone : +1-847-648-4400
e-mail : ckdsales@ckdusa.com

[India]

CKD India Private Limited
phone : +91-(0)124-418-8212
e-mail : Imai@ckdin.co.in
URL: https://www.ckd.co.jp/english/

Search for a different product