CC-Link partner product information
CC-Link|Slave|Transmission Devices
HOKUYO AUTOMATIC CO., LTD.
DMM-GB HB/DMM-GC HC Space Optical Data Transmission Unit (8-bit/16-bit Parallel Type)
A popular parallel type, this unit requires few wires.
Feature
The unit requires only seven wires, thereby saving wiring.
Up to 64 units can be connected to a master unit.
The unit can establish optical communication with our
DMS-GB HB/DMH-GC HC.
The unit comes in two types: head-on (horizontal) and side-on (vertical).
The unit comes with two transmission distances: one meter and three meters.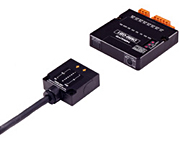 | | |
| --- | --- |
| Station type | Remote I/O station |
| Number of stations occupied | 1 station |
| Protocol version | |
| External dimensions | 90 (W) × 20 (H) × 87 (D) mm |
| Mass | 0.1 kg |
| Standard Price | DMM-GB1:48,000円 DMM-GB2:57,000円 DMM-HB1:48,000円 DMM-HB2:57,000円 DMM-GC1:83,000円 DMM-HC1:83,000円 |
Contact
[China]

SHANGHAI SUNSWIN MECHATRONIC CO., LTD.
Phone: +86-21-62774110

[Korea]

name : Hokuyo Korea Co., Ltd.
phone : 032-624-3194
e-mail : hokuyo_korea@naver.com

대리점 에스텍
경기도 군포시 군포로 785 명덕빌딩
Tel:031-397-0608


[Taiwan]

name : Dwo & Tom Enterprise Co.,Ltd.
phone : +886-2-2768-2323
e-mail : dwotom@so-net.net.tw
other :
URL: http://www.hokuyo-aut.co.jp

Mail: larrylzx@vip.sina.com

Search for a different product
CC-Link Partner Association (CLPA)
Members Site