CC-Link partner product information
CC-Link|Slave|PLC
ANYWIRE CORPORATION
AFMP-02-C/AFMP-02-CA CC-Link Slave Interface for YASKAWA ELECTRIC MP2000 Series
CC-Link Slave Interface with AnyWire DB Master for MP2200/2300 (YASKAWA ELECTRIC)
Slave interface board for connecting YASKAWA ELECTRIC PLC (machine controller) MP2200/2300 to the host CC-Link.
Feature
A single CC-Link master station can be connected to maximum 16 MP2200/2300s, connecting between a host PLC, e.g. MELSEC Q, and an MP with the CC-Link. (AFMP-02-C) AFMP-02-CA has the master function of AnyWire DB.
Data, e.g. parameter data, can be exchanged between the host MP PLC and the slave MP PLC.
The AnyWire DB less-wiring port with high resistance to electric noise is included as an option (AFMP-02-CA). Using the AnyWire less-wiring port enables free-wiring and free-topology I/O connection with up to 2560 points.
The Dual Bus system of the AnyWire DB series can independently transmit two different kinds of processing, the bit ON/OFF control with Bit Bus and the analog parameter data transmission with Word Bus, through one transmission line using a full quadruplex communication chip. The use of high-speed application is realized, and the transmission of control data and information data can be integrated.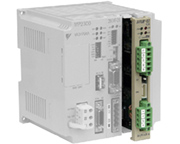 | | |
| --- | --- |
| Station type | Remote device station |
| Number of stations occupied | 4 stations |
| Protocol version | Ver. 1.10/Ver. 2.00 |
| External dimensions | 19.3(W)×130(H)×97.8(D) |
| Mass | 100 g |
| Standard Price | お問い合わせください |
Contact
[Japan]

Headquarters, West Japan Office
 1 Babazusho, Nagaokakyo-city, Kyoto 617-8550
e-mail : info_e@anywire.jp

[China]

e-mail : info_c@anywire.jp

[Korea]

현지법인 한국미쓰비시전기오토메이션㈜
서울특별시 강서구 양천로 401 강서한강자이타워 A동 9층
Tel:02-3664-8333

대리점 ㈜세봉
서울특별시 강남구 논현로8길 5 세봉빌딩 4층
Tel:02-2276-1331
URL:www.osebong.com


[Taiwan]

e-mail : info_c@anywire.jp

[Europe]

e-mail : info_e@anywire.jp

[US]

e-mail : info_e@anywire.jp

[India]

e-mail : info_e@anywire.jp

[Other]

e-mail : info_e@anywire.jp
URL: http://www.anywire.jp

Mail: info@anywire.jp

Search for a different product
CC-Link Partner Association (CLPA)
Members Site