CC-Link partner product information
CC-Link|Peripheral devices|Cables・connectors
Belden Hirschmann Industries(Suzhou)Ltd.
BELDEN 1348F CC-Link Movable Cable
BELDEN 1348F is highly flexible cable with excellent transmission properties. Compatible with CC-Link Ver.1.10 & designed as per UL AWM style 2464, it meets or exceeds UL & CC-Link standards. With Class 6 conductor type & superior bending radius of 8XOD, it can be used in highly flexible applications like drag chains, cable carriers & moving machinery parts. It has extremely bending-stable tinned copper braid shield & provides great protection against external environment with Oil & UV resistant jacket.
Feature
Number of cores: 3
Conductor size (AWG#): 20
Insulation material: Polyethylene
Cable outer diameter/finish outer diameter: 8.0 mm
Outer sheath material: PVC
Min. bending radius (Continuous Flexing): 8XOD
Bending Cycles: ≥ 1.15million (Bending Radius: 37 mm, Bend rate: 10 cycles/minute; Load weight: 500g, Bend angle: ± 90° )
Drag Chain Cycles: ≥ 5million (Moving distance: 2 meter, Bending Radius: 75 mm, Moving speed: 20 cycles/minute)
UL Certification: UL 758 AWM Style 2464
CC-Link Version 1.10 Compliant, Reference Number 1109
Flame retardant:
• VW-1, UL1581 Vertical Flame Test
• FT1, CSA Vertical Flame Test
UL Rating: 300V, 80℃
Environmental resistance: Oil and UV Resistant
Operating temperature range: -20 ~ 80°C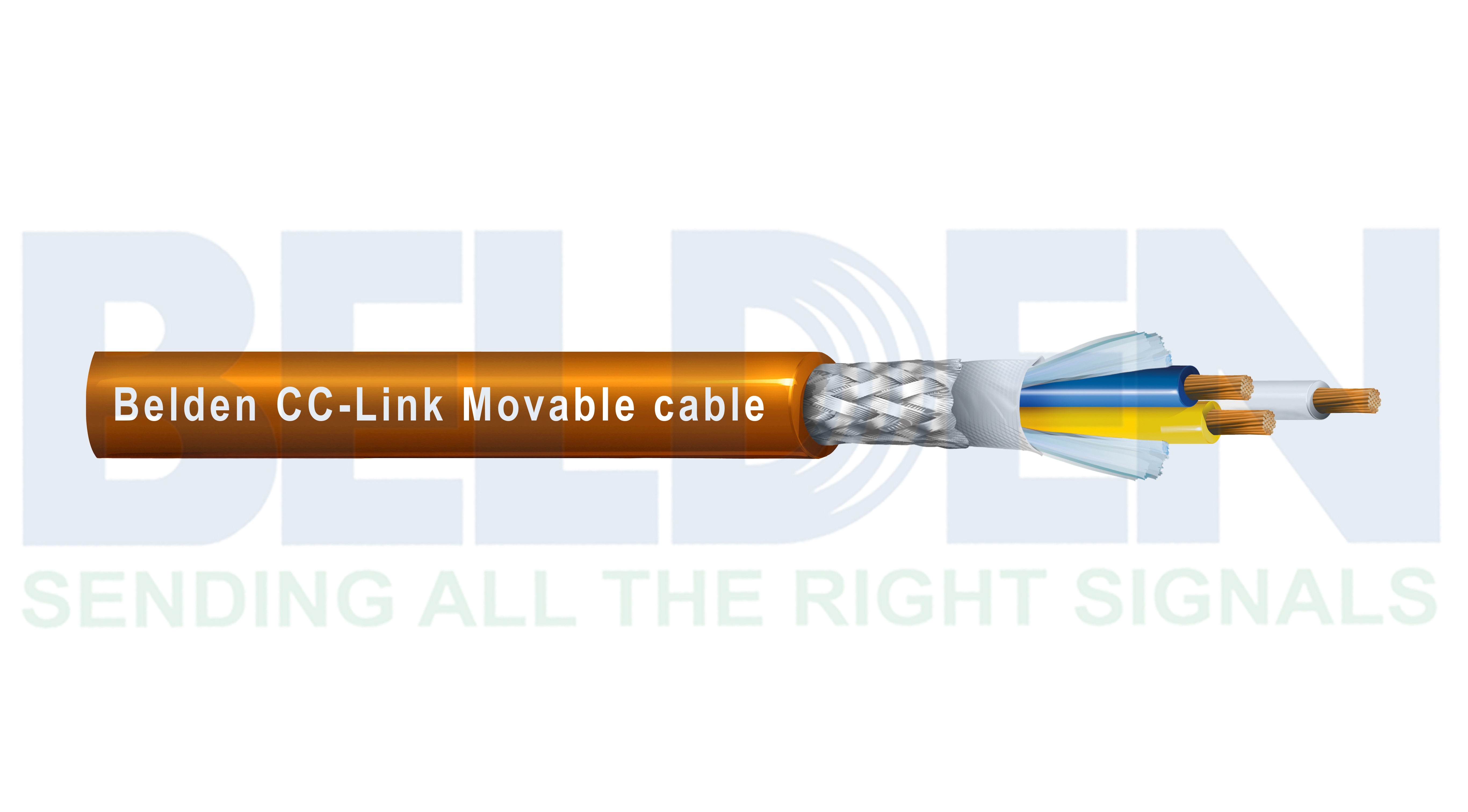 | | |
| --- | --- |
| Protocol version | 1.10 |
| External dimensions | Outer diameter 8.0 mm |
| Mass | 75 kg/km |
| Standard Price | |
Contact
[Japan]

Company name : 会社名 : ベルデン (日本法人)
Address : 住所 : 〒100-005 東京都千代田区丸の内3-2-2 丸の内二重橋ビル3F
Telephone : 電話番号 : 03-6837-9613
Mail : japan.sales@belden.com, shigehiro.aoki@belden.com
BELDEN Japan
Level3, Marunouchi, Nijibashi Building, 3-2-2
Marunouchi Chiyoda-ku Tokyo 100-0005 Japan
Tel: 03-6837-9613
e-mail : To: japan.sales@belden.com, CC: shigehiro.aoki@belden.com,

[China]

Name: Avishi Kansal
Department: Research and Development 333 Yanhu Avenue, Huaqiao Town, Kunshan City, Suzhou 215332, Jiangsu Province,
Tel: +86-512-5796-1688, Fax: +86-512-5796-1222
Mail: china.marketing@belden.com

[Korea]

•현지법인 벨덴코리아
서울시 서초구 마방로10길 5 태석빌딩 1808호
Tel : 02-3497-0331

대리점 썬리드(주)
서울시 송파구 올림픽로 319 교통회관 10층
Tel:02-2202-2656

[India]

Chakan MIDC Phase II,
Village Bhamboli, Tal: Khed,
District- Pune, Pin: 410507, India
Tel:+91 2135638791 Fax:+91 213563 8790
india.sales@belden.com

[Other]

83 Clemenceau Avenue#07-01/04 UE Square Singapore 239920
Tel:+65-6879-9800 Fax:+65-6567-9656
e-mail:singapore.sales@belden.com

No. 3 Promphan 3 Building
UNIT 1725, 17th Floor, Soi Lad Phrao 3
Chomphon Sub-District,Chatuchak District Bangkok 10900 Thailand
Tel:+66-2026-0525 Fax:+66-2024-6767
e-mail: thailand.sales@belden.com
URL: http://www.belden.com/

Search for a different product
CC-Link Partner Association (CLPA)
Members Site