CC-Link partner product information
CC-Link|Device|Load cell・Indicator
Minebea Mitsumi Inc.
CSD-912B-73 Graphic Digital Indicator for Load Cells
This graphic digital indicator CSD-912B for the load cells can be widely applied from an advanced sequence control such as the hopper scales, the packer scales, etc., to a simple measurement such as the platform scales, etc.
Feature
Because the TFT type wide viewing angle 6.2-inch color liquid crystal display with touch panel function is adopted, and the menu of various setting can be confirmed on the screen, the operation is easy.
The measurement condition of full flow, middle flow, dribble flow, etc., can be confirmed by the graphic display in the sight.
The brand code and the recipe code can be registered up to 100 kinds.
1,000 times/s of high speed A/D conversion. (24 bit of internal resolution)
This unit can be smoothly replaced with the old unit for compact DIN size (192 mm × 96 mm).
The enhanced sequence functions which suits the various measurement system is equipped.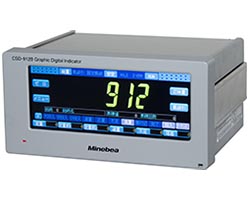 | | |
| --- | --- |
| Station type | Remote device station |
| Number of stations occupied | 1, 2, 4 stations |
| Protocol version | Ver.1.10 |
| External dimensions | 192(W)×96(H)×170(D) [mm] |
| Mass | Approx. 1.6 kg |
| Standard Price | お問い合わせください |
CSP+File
Contact
[Japan]

MinebeaMitsumi Inc.
Phone: +81-466-23-2681

[China]

name : Minebea Trading (Shanghai) Ltd.
phone : +86-21-5405-0707
name : Minebea (Shenzhen) Ltd.
phone : +86-755-82668846
name : Minebea (Hong Kong) Ltd.
phone : +852-3423-2300

[Korea]

name : NMB Korea Co., Ltd.
phone : +82-2-557-4467

[Taiwan]

name : Minebea Technologies Taiwan Co., Ltd. Taipei Branch
phone : +886-2-2718-2363

[Europe]

name : NMB-Minebea-GmbH
phone : +49-6103-913-226
name : NMB Italia S.r.L.
phone : +39-02-939711
name : NMB Minebea S.a.r.l.
phone : +33-1-34083939
name : APB myonic GmbH
phone : +43-6133-5016-0

[US]

name : NMB Technologies Corporation
phone : +1-818-341-3355

[India]

name : NMB-Minebea India Private Limited
phone : +91-44-4299-4215

[Other]

name : NMB-Minebea Thai Ltd. Bangkok Office
phone : +66-2-253-4897
name : NMB Singapore Ltd. Chai Chee Sales Office
phone : +65-6241-1033
name : MINEBEA MITSUMI INC. Kuala Lumpur Branch
phone : +60-4-2275681
name : NMB-Minebea Thai Ltd. Manila Office
phone : +63-2-856-1395
name : Representative Office of NMB-Minebea Thai Ltd, in Hanoi
phone : +84-24-3974-4582
name : NMB-Minebea do Brasil Importação e Comércio de Componentes de Precisão Ltda
phone : +55-11-3939-0882

URL: http://www.minebea-mcd.com/en

Product details: http://www.minebea-mcd.com/en/product/i-amp/csd912b.html

Mail: keisokukiki@minebeamitsumi.com

Search for a different product
CC-Link Partner Association (CLPA)
Members Site