CC-Link partner product information
CC-Link|Device|Analog I/O
Wago Company of Japan, Ltd.
Modular type 750-325 CC-Link Fieldbus Coupler, V1.1/ V2.0 Selectable
This fieldbus coupler connects the WAGO‐I/O-SYSTEM as a slave to the CC-Link Fieldbus. The fieldbus coupler supports the CC-Link protocol versions V1.1. and V2.0.
Digital and analog I/O units can be used together. This system is flexible in configuration thanks to various combinations of 750 series modules.
Feature
The buscoupler automatically configures, creating a local process image which may include analog, digital or specialty modules. Analog and specialty module data is sent via words and/or bytes, digital data is sent bit by bit.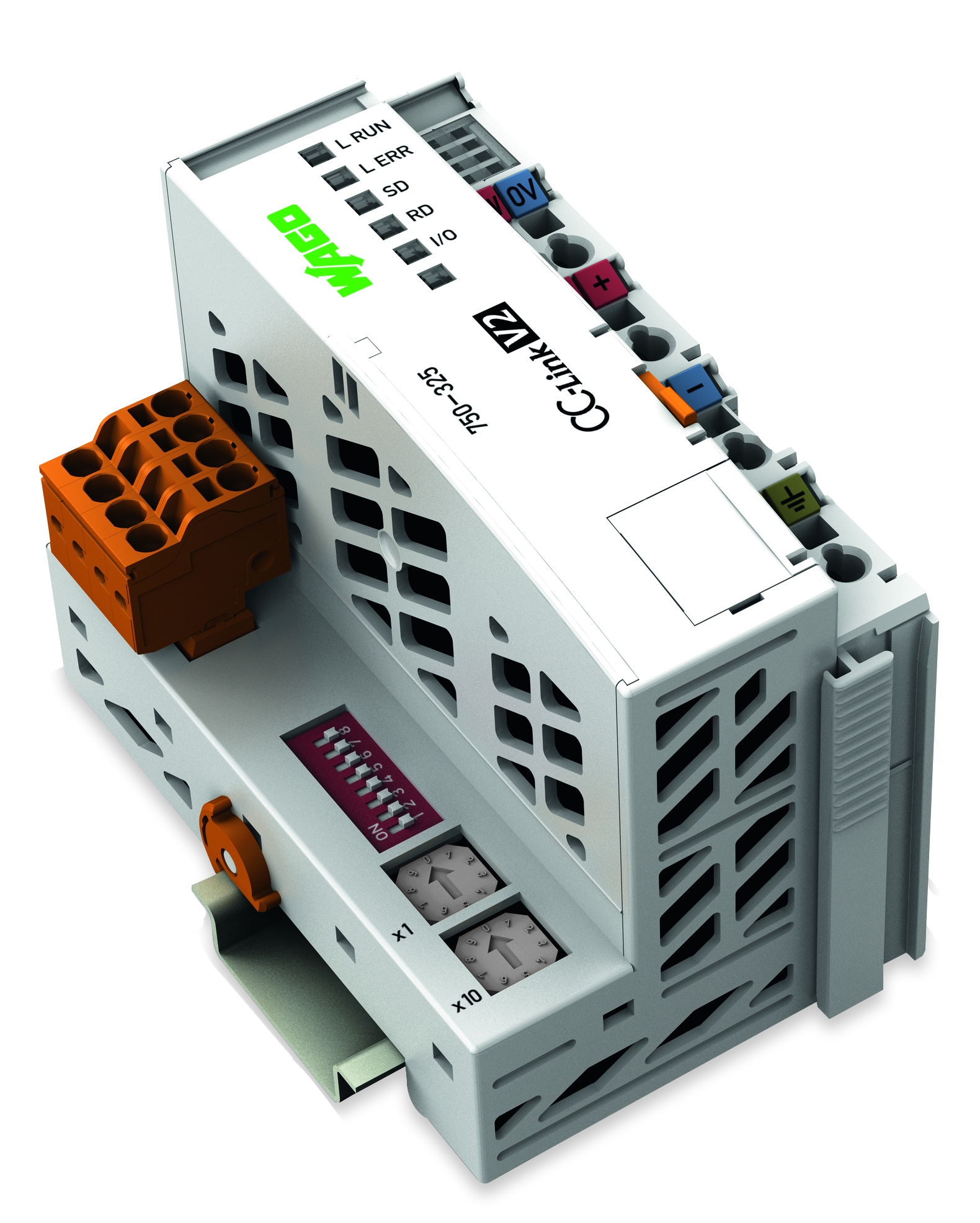 | | |
| --- | --- |
| Station type | Remote Device Station |
| Number of stations occupied | V1.1: 1 - 4 Station, V2.0: 1 - 4 Station( extended cyclic setting for each, 1,2,4,8) |
| Protocol version | V1.1, V2.0 Selectable |
| External dimensions | 61.5 x 71.9 x100mm |
| Mass | 149g |
| Standard Price | お問い合わせください。 |
Contact
[Japan]

name : Wago Company of Japan
phone : 03-5627-2050
e-mail : motohiro.nishibori@wago.com
other :

[China]

name :
phone :
e-mail :
other :

[Korea]

현지법인 ㈜와고코리아
경기도 안양시 동안구 학의로 268 (관양동 799 안양메가밸리) 205호
Tel : 031-421-2440

대리점 ㈜만희기전
경기도 과천시 궁말로 20번지
Tel :02-2194-3300


[Taiwan]

name : 台灣旺科股份有限公司
phone : +886-2-2225-0123
e-mail :info.taiwan@wago.com
other :

[Europe]

name : Wago Kontakttechnik GmbH & Co.KG
phone : +49-571-887-77967
e-mail : meike.scharff@wago.com
other :

[US]

name :
phone :
e-mail :
other :

[India]

name :
phone :
e-mail :
other :

[Other]

name :
phone :
e-mail :
other :
Search for a different product
CC-Link Partner Association (CLPA)
Members Site