CC-Link partner product information
SLMP|Client/Server|Miscellaneous
Yokogawa Electric Corporation
Data Acquisition System GM
SMARTDAC+ Series
GM10 Data Acquisition Module
GM90MB Module Base
GM90PS Power Supply Module
The Data Acquisition System GM is a data logger
that excels in versatility and expandability. The main
unit includes on-board memory for data acquisition
and also supports SD cards for external storage. The system consists of a Data Acquisition Module (GM10), Power Supply Module (GM90PS), and Module Base (GM90MB), which is used to mount a variety of modules.

Record device datas in MELSEC with /E4:SLMP option and /MC:Comunication Channel option.
Feature
Decades of Yokogawa's innovative measuring technology has resulted in a flexible data logger that offers both reliability and ease of use.

1.Scalability
-Up to 420 ch per system
-Plug and lock modules
2.Ease of Use
-Web-based configuration
-Live Web-based data viewing
3.Mobile Connectivity
-Bluetooth
-Mobile Application
4.Open Network
-Modbus, EtherNet/IP, SLMP and OPC-UA server
5.Reliability
-Secure data storage
-High accuracy measurement
6.Noise Tolerance
-Electromagnetic relay module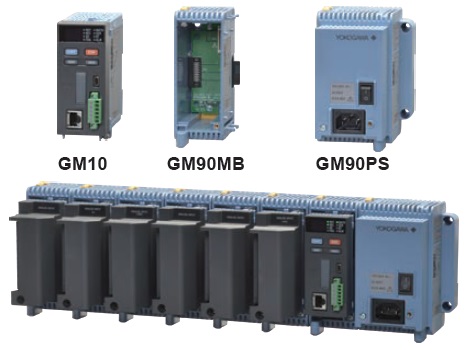 Station type
Number of stations occupied
CC-Link version
External dimensions
GM10:45.1(W)×111(H)×107.1(D) mm
GM90MB MODULE BASE:57.7(W)×135(H)×103.5(D) mm
GM90PS POWER SUPPLY MODULE:56.8(W)×135(H)×107.1(D) mm
Mass
GM10:Approx. 0.25 kg GM90MB:Approx. 0.15 kg GM90PS :Approx. 0.55kg
Standard Price
Contact us
Contact
[China]

name : Yokogawa Chaina Co,. Ltd. NetSOL Business Division
phone : +86-23-67576883
fax : +86-23-67576885
other :

[Korea]

name : Yokogawa Electric Korea,. Ltd. Products Sales Team
phone : +82-2-2628-6132
fax : +82-2-2628-6405


[Taiwan]

name : Yokogawa Taiwan Corporation Products Marketing Dept.
phone : +886-2-2314-9166
fax: +886-2-2557-2616

[Europe]

name : Yokogawa Europe B.V. IA Marketing Network Solutions
phone : +31-88-4641228
fax: +31-88-4641093

[US]

name : Yokogawa Corporation of America Control Instruments Division
phone : +1-770-254-0400
fax : +1-770-251-6427

[Other]

name : Yokogawa Engineering Asia Pte.Ltd. Regional Marketing Operations
phone :+65-6241-9933
fax : +65-6241-9919
URL: http://www.yokogawa.com/index.htm?_ga=1.249326535.1320767998.1383194244

Product details: http://www.smartdacplus.com/en/

Product details: http://www.smartdacplus.com/en/gm/gm01.html

Search for a different product