CC-Link partner product information
CC-Link|Slave|Process Device
Yokogawa Electric Corporation
UTAdvanced Series Digital Indicator with Alarms
The UM33A digital indicator with Alarms employ an easy-to-read, 14-segment large color LCD display, along with navigation keys, thus greatly increasing the monitoring and operating capabilities. The short depth of the controller helps save instrument panel space. Also supporting the CC-Link communication.
Feature
The UM33A has an universal input which can directly input signals from various sensors in the field. Embedded CC-Link communication. Equipped with retransmission output.
Simplicity
-Bright & Easy to Read Active Color LCD Display
-Easy Operation Map, Navigation Guide and Navigation Keys
-Multiple language support ;English, Spanish, French, and German
-Compact design depth (The 65-mm depth)
-LL50A Parameter Setting Software ;Setting Parameters Tool, CC-LINK Profile setting Tool
Reliability
-RoHS/WEEE compliant ;UTAdvanced is environmentally safe when disposing.
Dust-proof and drip-proof front panel (NEMA4*2 /IP66)
-UTAdvanced can also be used for food-processing equipment with washable control panels.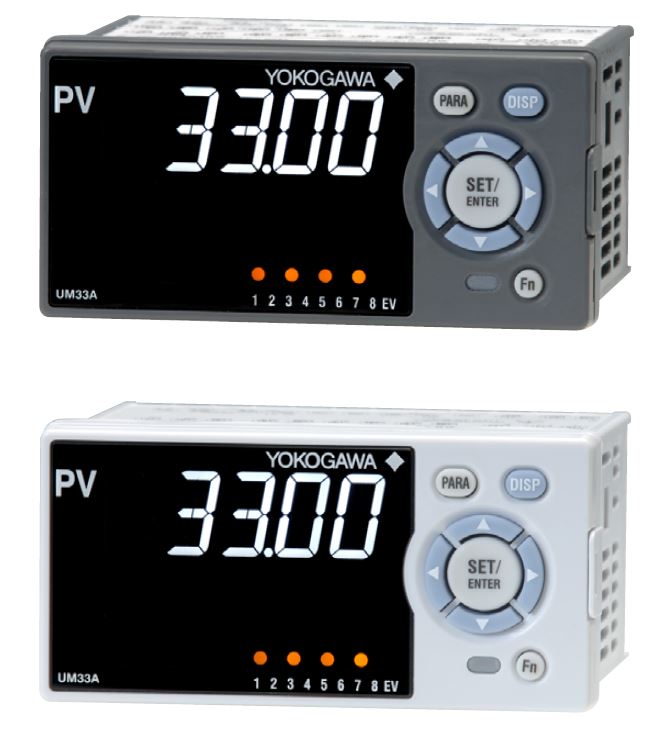 | | |
| --- | --- |
| Station type | Remote device station |
| Number of stations occupied | 1 station - 4 station |
| Protocol version | Ver.2.00, Ver,1,10 |
| External dimensions | External dimensions (mm): 96 (width) x 48 (height) x 65 (depth from the panel surface) |
| Mass | Weight: 0.5 kg or less |
| Standard Price | Contact us |
Contact
[China]

name: Yokogawa China Co., Ltd. NetSOL Business Division
Phone: +86-23-67576883
Fax: +86-23-67576885

[Korea]

name : Yokogawa Electric Korea Co., Ltd. Products Sales Team
phone : +82-2-2628-6132
Fax : +82-2-2628-6405

[Taiwan]

name : Yokogawa Taiwan Corporation Products Marketing Dept.
phone : +886-2-2314-9166
Fax : +886-2-2557-2616

[Europe]

name : Yokogawa Europe B.V. IA Marketing Network Solutions
phone : +31 88 4641228
Fax : +31 88 4641093

[US]

name : Yokogawa Corporation of America Control Instruments Division
phone : +1-770-254-0400
Fax: +1-770-251-6427

[Other]

name : Yokogawa Engineering Asia Pte. Ltd. Regional Marketing Operations
phone : +65-6241-9933
Fax: +65-6241-9919
URL: http://www.yokogawa.com/

Product details: http://www.utadvanced.com/index.html

Product details: http://www.yokogawa.com/ns/cis/utup/ns-index_utup.htm

Search for a different product
CC-Link Partner Association (CLPA)
Members Site