CC-Link partner product information
CC-Link|Slave|Barcode・ID
Balluff GmbH
BIS V-6111-073-Cxxx
The BIS V Identification System is a non-contacting system with read and write function, which not only allows it to convey information programmed permanently in the data carrier, but also to collect and pass on current information.

Main Applications:
– In production for controlling material flow (e.g. for model-specific processes, conveying systems that transport workpieces, acquisition of safety-relevant data)
– In warehousing for monitoring material movement
– transporting and conveying.
Feature
- New generation of BIS processor is based on modular concept with flexible HW and SW design
- More functionality in a smaller housing. Suitable for both simple and demanding applications, featuring a strong design
- Uses the newest technology, resulting in fast and reliable data transmission with short cycle times and high data security
- BIS V is a winner of 2012 reddot award.

The new BIS V identification system is established for the frequency range of HF and LF and enables the connection of up to 4 r/w heads independent of frequency.

- All terminals in front for easy access
- Read/write head function indicator:
- Each read head terminal uses 2 LEDs for indicating status and operating state
- 3 LEDs for unit status
- Indicator with control keys (LCD + keys).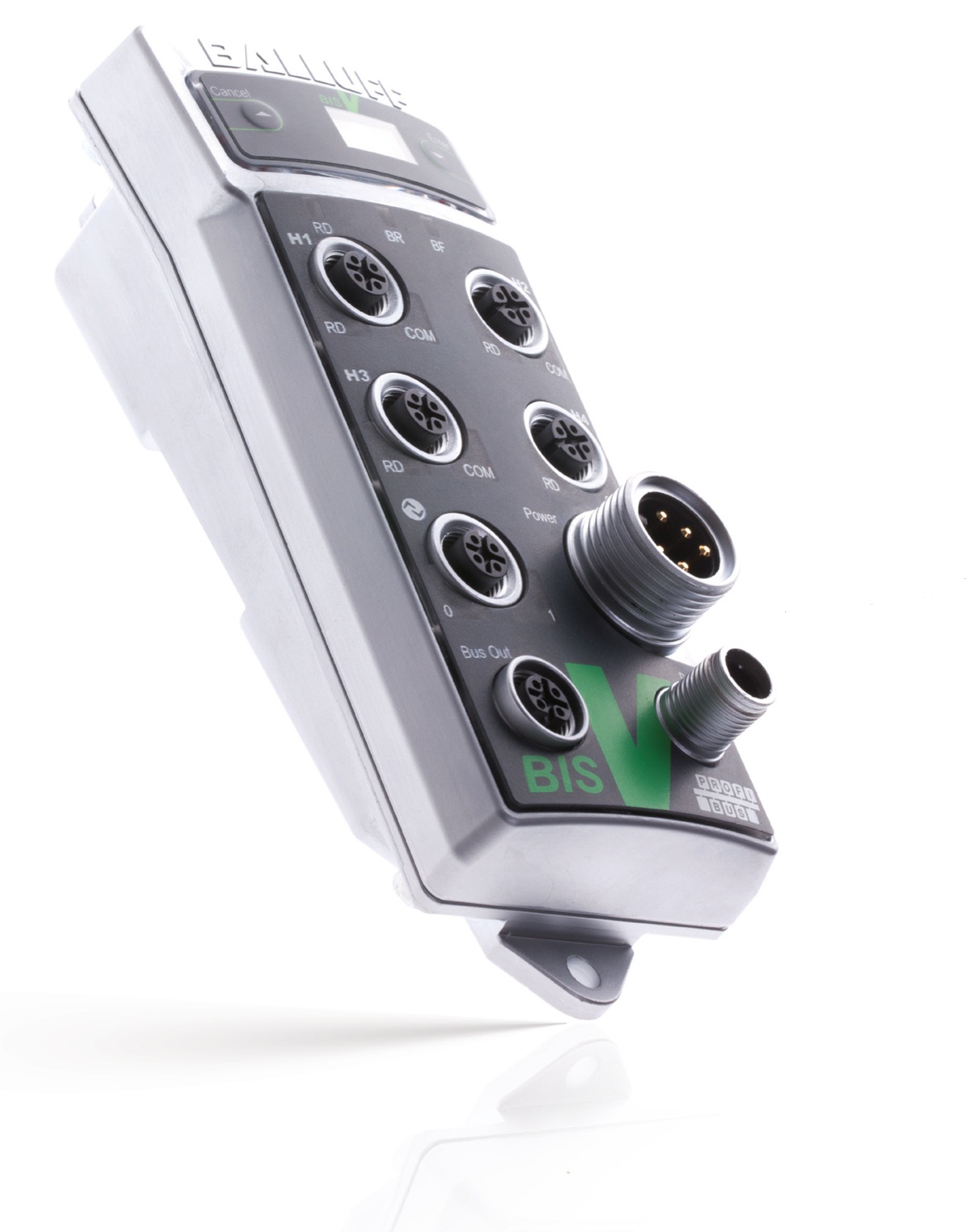 | | |
| --- | --- |
| Station type | Remote Device Station |
| Number of stations occupied | 1 to 4 Stations |
| Protocol version | Ver. 1.1 and Ver. 2.0 |
| External dimensions | W 62 (mm) x H 42,7 (mm) x D 157,6 (mm) |
| Mass | 0,955kg |
| Standard Price | |
Contact
[Japan]

name : Balluff Co., Ltd.
phone : +81 3 3830 0520
e-mail : info.jp@balluff.jp
other :

[China]

name : Balluff (Shanghai) Trading Co. Ltd.
phone : +86 21 50 89 99 70
e-mail : info@balluff.com.cn
other :

[Korea]

현지법인 발루프코리아(유)
경기도 수원시 영통구 광교로 156 1210호
Tel : 031-8064-1757

대리점 ㈜만희기전
경기도 과천시 궁말로 20번지
Tel :02-2194-3300


[Taiwan]

name : Balluff Taiwan Ltd.
phone : +886 4 2321 1628
fax: +886 4 2321 1623
e-mail : taiwan@balluff.com.cn
address : Room G, 7F., No.573, Sec. 2, Taiwan Blvd.,
West Dist.,Taichung City 40360

[Europe]

name : Balluff GmbH
phone : +49 7158 173-0
e-mail : balluff@balluff.de
other :

[US]

name : Balluff Inc.
phone : +1 85 97 27 22 00
e-mail : balluff@balluff.com
other :

[India]

name : Balluff Automation India Pvt. Ltd.
phone : +91 020 61320300
e-mail : info.in@balluff.in
address : Office No. 201, Tower 1, World Trade Center,
Kharadi, Pune, Maharashtra 411014, India
URL: http://www.balluff.de

Product details: http://www.balluff.com/balluff/MDE/de/produkte/product_detail.jsp#/229679

Product details: http://www.balluff.com/balluff/MDE/de/produkte/product_detail.jsp#/238711

Search for a different product
CC-Link Partner Association (CLPA)
Members Site