CC-Link partner product information
CC-Link|Device|Gateway
Pepperl + Fuchs GmbH
VBG-CCL-K20-D-BV
AS-i/CC-Link gateway
Feature
Network working status could be clearly displayed via LED display.
4 button operation enables clear graphic display.
Bus parameter on the gateway can be set easily by the button.
AS-i network can be set and diagnosed via the button
The AS-i gateway supports AS-i V 3.0 protocol specification, can connect up to 62 slave modules, and 248 input /248 output signals.
By connecting to Pepperl + Fuchs' safety monitor (VAS-2A8L-KE4-8SE), a safety network can be set up.
VAS-2A8L-KE4-8SE can be directly connected with the safety IO, without additional other module needed.
The mobile terminal with spring clamp is differentiated by color, easy to identify.
Back buckle can be used for DIN rail mounting.
Stainless housing.
Protection degree IP20.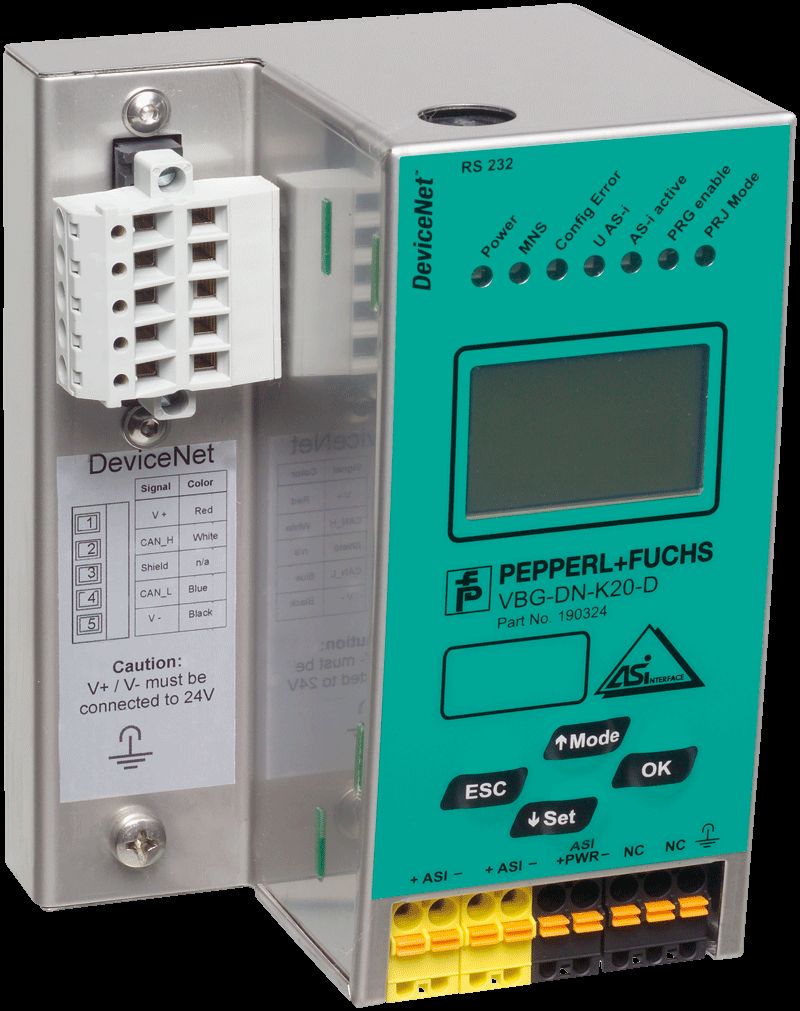 | | |
| --- | --- |
| Station type | Remote Station |
| Number of stations occupied | 4 station (Ver. 1.10), 3 station (Ver. 2.0) |
| Protocol version | Ver 1.10, Ver. 2.0 |
| External dimensions | 85 × 83 × 120 mm |
| Mass | 0.52 kg |
| Standard Price | |
Contact
[Korea]

현지법인 페펄앤드푹스코리아
서울시 서초구 방배동 895-2 양지빌딩2, 5층
Tel : 02-3481-9494

대리점 동림전기제어(주)
경기도 수원시 권선구 고색동 912-11
Tel:031-292-6141~4

[Europe]

Pepperl+Fuchs GmbH
68307 Mannheim, Germany
Phone: +49 621 776 - 0
Fax: +49 621 776 - 1000

[US]

Pepperl+Fuchs Inc.
1600 Enterprise Parkway
Twinsburg, Ohio 44087, USA
Phone: +1 330 425-3555

[Other]

Pepperl+Fuchs Pte Ltd.
18 Ayer Rajah Crescent
Singapore 139942
Phone: +65 677-99091
URL: http://www.pepperl-fuchs.com/

Mail: info@de.pepperl-fuchs.com

Search for a different product
CC-Link Partner Association (CLPA)
Members Site