CC-Link partner product information
CC-Link|Device|Solenoid valve
Festo AG & Co. KG
CTEU-CC
CTEU-CC Fieldbus is usuable with the valve Terminals VTUG, VTOC and MPA-L directly also with the CAPC Adapter. The CAPC Adapter plate allows to connect two valve Terminals or a valve Terminal and an IO module connected with M12- 5pin cables.
Feature
Mapping in the bit area:
1 Station: max 16 bits
2 Station: max. 48 bits
3 Station: max. 80 bits
4 Station: max. 112 bits

Mapping in the word area:
1 Station: max. 8 byte
2 Station: max. 16 Byte

The diagnostics function can be activated or deactivated by setting bit 0 of the first output byte in the unused range.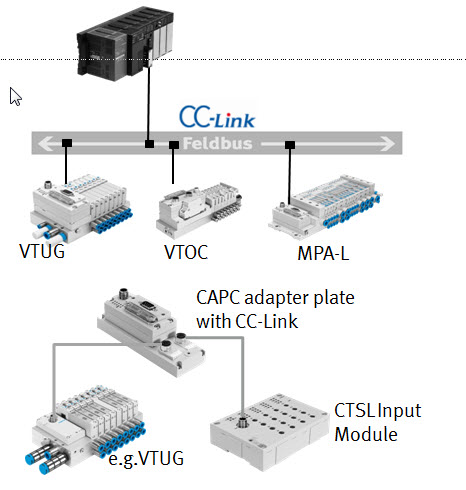 | | |
| --- | --- |
| Station type | Remote Device Station |
| Number of stations occupied | 4 station selectable |
| Protocol version | 1.1 |
| External dimensions | 40 mm x 91 mm x 50 mm |
| Mass | 90gr |
| Standard Price | Price on request |
Contact
[Korea]

현지법인 한국훼스토㈜
서울특별시 금천구 가산디지털1로 204
Tel:02-850-7367

대리점 가온FA
경기도 부천시 수도로 98 1층(도당동, 태양공구상가)
Tel : 032-681-0909


Search for a different product