CC-Link partner product information
CC-Link|Device|Load cell・Indicator
TEAC Corporation
Digital Transducer Indicator TD-700T(CCL)
Color LCD equipped High Speed and High Cost Performance Digital Transducer Indicator
Feature
- Five-digit digital display enables direct reading of physical quantities up to ±99999.
- Support for TEDS sensors makes calibration easy.
Automatic calibration is also possible when a TEDS sensor is connected.
- An equivalent input function is included, making sensitivity adjustment without actual loads easy.
- Static strain measurement is possible.
Identifying load cell defects and other problems through plastic deformity is easy.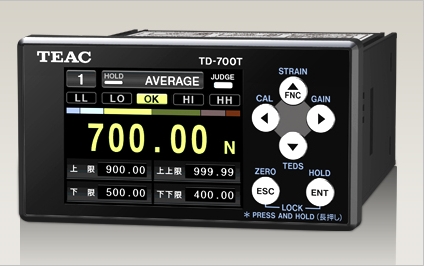 | | |
| --- | --- |
| Station type | Remote Device Station |
| Number of stations occupied | 1 station, 2 stations, 4 stations |
| Protocol version | Ver.1.10 |
| External dimensions | Approx. 96 mm × 53 mm × 132 mm (without protrusions) |
| Mass | Approx. 300 g |
| Standard Price | |
Contact
[Japan]

name : TEAC Corporation
phone : +81 42 356 9161
e-mail : cs_ipd@teac.jp

[Korea]

대리점 디와이테크 주식회사
서울시 광진구 아차산로 444 와이엔오피스텔 801호
Tel : 02-444-4477

Search for a different product
CC-Link Partner Association (CLPA)
Members Site