CC-Link partner product information
CC-Link|Slave|Barcode・ID
MITSUBISHI ELECTRIC ENGINEERING COMPANY LIMITED
CC-Link compatible ECL2-V680D1 RFID Interface Unit
Using the RFID interface module as the CC-Link remote device station achieves connections with the RFID system V680 series manufactured by OMRON Corporation.
Feature
ECL2-V680D1 applies to the remote device station of CC-Link and can relate CC-Link to a V680 series RFID system of OMRON.
ECL2-V680D1 is placed at the remote position from the CC-Link master station to up to 1200m.
ECL2-V680D1 has a function for maintenance to show below,
[Communication test]
ECL2-V680D1 checks communication conditions between an antenna and an ID tag for a setup and maintenance.
[Distance level measurement]
ECL2-V680D1 measures a distance level between an antenna and the ID tag.
ECL2-V680D1 supports iQSS (iQ Sensor Solution) which Mitsubishi Electric proposes. The enginner can operate a function for maintenance of ECL2-V680D1 with GX Works2 which is Mitsubishi Electric MELSOFT, and can confirm the conditions such as an ON/OFF signal or device data controlling this product easily.
Furthermore, can shorten the work period that development and debugging and the setup of the system take.
The FB (function block) library which attracted the sequence programs such as the reading or writing of the ID tag of parameter setting and data, is offered, and can develop a control program easily by using these FB libraries.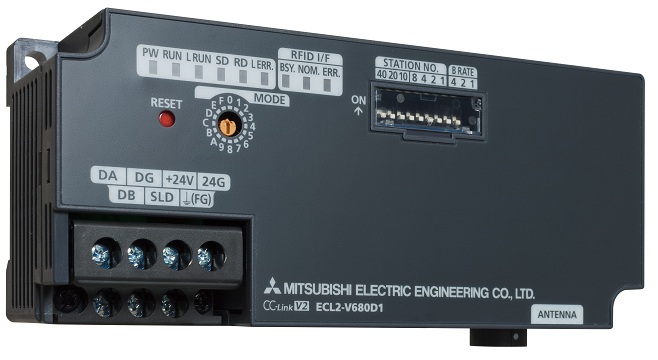 | | |
| --- | --- |
| Station type | Remote device station |
| Number of stations occupied | 2 stations / 4 stations |
| Protocol version | 1.10,2.00 |
| External dimensions | 150 x 65 x 45 [mm] (except the connection antenna cable) |
| Mass | 0.3kg |
| Standard Price | |
Search for a different product
CC-Link Partner Association (CLPA)
Members Site