CC-Link partner product information
CC-Link|Slave|PLC
ABB AS, ROBOTICS
Gateway for all ABB Robots in S4 and IRC5 generation
The DeviceNet to CCLINK gateway offers an interface between the CC-link bus and the ABB Robot Controller. It enable users to any ABB Robot with S4 and IRC5 controllers to be connected to the CC-link network as a remote device station. It is handled by the network master. Typicaly, these robots are designed for painting, sealing, welding, handlind palletising. Figure include.
Feature
Direct connection to ABB robot controller
Fast data transfer
Seamless integration of ABB robots to manufacturing systems.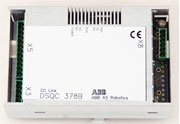 | | |
| --- | --- |
| Station type | |
| Number of stations occupied | |
| Protocol version | |
| External dimensions | 110 x 170 x 45 [mm] |
| Mass | 0,45 [kg] |
| Standard Price | |
Contact
[Korea]

현지법인 ABB KOREA
서울특별시 강남구 테헤란로 503 옥산빌딩 7-10F, 15F
Tel:02-528-3131(로봇사업부:02-528-3070)



[Other]

The CC-link option is used globally,
but mainly in Asia and in Europe & US in Japanese based faktories (Automotive).
The contact is the ABB sales organization.
The ABB Robotics sales organization handle all markeds globally.
URL: http://www.abb.com/

Search for a different product
CC-Link Partner Association (CLPA)
Members Site