CC-Link partner product information
SLMP|Client/Server|Peripheral software
TAKEBISHI CORPORATION
MELSEC Ethernet DAServer (QE71DAS-US)
The DAServer is a comunication driver software based on architecture "ArchestrA" of Wonderware. It provides a Easy Communication with SLMP devices and InTouch10 and Wonderware Application Server(IAS).
Feature
ArchestrA : The SLMP devices are united seamlessly with the ArchestrA system.
OPCDA/SuiteLink : It is possible to communicate with InTouch by SuiteLink and with other applications by OPC.
Hot Configuration : It is possible to change the configuration dynamically without stopping the DAServer.
Remote Configuration : It is possible to change configuration from remote PC.
RAS functions : By watching tag values and qualities etc. It becomes easy to solve communication troubles.
Run as a service : DAServer can run as Windows Service Application. It works already when login screen is displayed.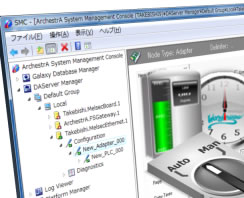 | | |
| --- | --- |
| Station type | |
| Number of stations occupied | |
| CC-Link version | |
| External dimensions | |
| Mass | |
| Standard Price | ¥68,000 |
Contact
[Japan]

TAKEBISHI Corporation
System Solution Development Department Technical Department Deision
29 Mamedacho Nishikyogoku Ukyoku Kyoto 615-8501, JAPAN
TEL +81-75-325-2261 FAX: +81-75-325-2273 fa-support@takebishi.co.jp

[China]

TAKEBISHI Corporation
System Solution Development Department Technical Department Deision
29 Mamedacho Nishikyogoku Ukyoku Kyoto 615-8501, JAPAN
TEL +81-75-325-2261 FAX: +81-75-325-2273 fa-support@takebishi.co.jp

[Korea]

TAKEBISHI Corporation
System Solution Development Department Technical Department Deision
29 Mamedacho Nishikyogoku Ukyoku Kyoto 615-8501, JAPAN
TEL +81-75-325-2261 FAX: +81-75-325-2273 fa-support@takebishi.co.jp

[Taiwan]

TAKEBISHI Corporation
System Solution Development Department Technical Department Deision
29 Mamedacho Nishikyogoku Ukyoku Kyoto 615-8501, JAPAN
TEL +81-75-325-2261 FAX: +81-75-325-2273 fa-support@takebishi.co.jp

[Europe]

TAKEBISHI Corporation
System Solution Development Department Technical Department Deision
29 Mamedacho Nishikyogoku Ukyoku Kyoto 615-8501, JAPAN
TEL +81-75-325-2261 FAX: +81-75-325-2273 fa-support@takebishi.co.jp

[US]

TAKEBISHI Corporation
System Solution Development Department Technical Department Deision
29 Mamedacho Nishikyogoku Ukyoku Kyoto 615-8501, JAPAN
TEL +81-75-325-2261 FAX: +81-75-325-2273 fa-support@takebishi.co.jp

[India]

TAKEBISHI Corporation
System Solution Development Department Technical Department Deision
29 Mamedacho Nishikyogoku Ukyoku Kyoto 615-8501, JAPAN
TEL +81-75-325-2261 FAX: +81-75-325-2273 fa-support@takebishi.co.jp

[Other]

TAKEBISHI Corporation
System Solution Development Department Technical Department Deision
29 Mamedacho Nishikyogoku Ukyoku Kyoto 615-8501, JAPAN
TEL +81-75-325-2261 FAX: +81-75-325-2273 fa-support@takebishi.co.jp
URL: http://www.takebishi.co.jp/english/

Product details: http://www.faweb.net/us/das/

Mail: fa-support@takebishi.co.jp

Search for a different product