CC-Link partner product information
CC-Link|Device|Load cell・Indicator
Minebea Mitsumi Inc.
CSD-903-73 Digital Indicator for Load Cells
New basic model including all Minebea's precious measurement knowhow. Digital indicator, most suitable for weighing systems.
Feature
FLVFD type fluorescence display tube of 11.55 mm character height provides good visibility to main display.
Display the measuring conditon actively by a variegated 18 digits of sub-display and 16 points of status display.
Supplementary flow, auto free fall compensation and auto accumulation function can be controlled.
Equipped with serial interface as a standard.
Prepare a communications tool that can read and write a setting of parameter by connecting PC.
CE mark applicable even if CC-Link interface is equipped. RoHS compliant product. IP65 as a protection rating.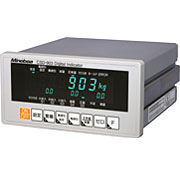 | | |
| --- | --- |
| Station type | Remote device station |
| Number of stations occupied | 1, 2, 4 stations |
| Protocol version | Ver.1.10 |
| External dimensions | 144(W)×72(H)×146.7(D) [mm] |
| Mass | Approx. 1.0 kg |
| Standard Price | お問合せ下さい |
Contact
[Japan]

MinebeaMitsumi Inc.
Phone: +81-466-23-2681

[China]

name : Minebea Trading (Shanghai) Ltd.
phone : +86-21-5405-0707
name : Minebea (Shenzhen) Ltd.
phone : +86-755-82668846
name : Minebea (Hong Kong) Ltd.
phone : +852-3423-2300

[Korea]

name : NMB Korea Co., Ltd.
phone : +82-2-557-4467

[Taiwan]

name : Minebea Technologies Taiwan Co., Ltd. Taipei Branch
phone : +886-2-2718-2363

[Europe]

name : NMB-Minebea-GmbH
phone : +49-6103-913-226
name : NMB Italia S.r.L.
phone : +39-02-939711
name : NMB Minebea S.a.r.l.
phone : +33-1-34083939
name : APB myonic GmbH
phone : +43-6133-5016-0

[US]

name : NMB Technologies Corporation
phone : +1-818-341-3355

[India]

name : NMB-Minebea India Private Limited
phone : +91-44-4299-4215

[Other]

name : NMB-Minebea Thai Ltd. Bangkok Office
phone : +66-2-253-4897
name : NMB Singapore Ltd. Chai Chee Sales Office
phone : +65-6241-1033
name : MINEBEA MITSUMI INC. Kuala Lumpur Branch
phone : +60-4-2275681
name : NMB-Minebea Thai Ltd. Manila Office
phone : +63-2-856-1395
name : Representative Office of NMB-Minebea Thai Ltd, in Hanoi
phone : +84-24-3974-4582
name : NMB-Minebea do Brasil Importação e Comércio de Componentes de Precisão Ltda
phone : +55-11-3939-0882
URL: http://www.minebea-mcd.com/en

Product details: http://www.minebea-mcd.com/product/i-amp/csd903.html

Mail: keisokukiki@minebeamitsumi.com

Search for a different product
CC-Link Partner Association (CLPA)
Members Site