CC-Link partner product information
CC-Link|Peripheral devices|Cables・connectors
JMACS Japan Co., Ltd.
CC-Link Version 1.10-compatible flexible cable EM CCNC-SB110SF-5/F
Lead-free mixed vinyl, which is flexible and oil and heat resistant, is used for the sheath.
Feature
Complex soft copper twisted wires superior in flexibility is used for the conductor.
The cable can be used for high-speed transmission at 10 Mbps and helps the CC-Link display full performance.
The transmission distance is 50% of that of the standard cable.(Example: Max. 50m at 10Mbps)
Halogen-free.
Complies with RoHS directive.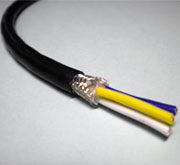 | | |
| --- | --- |
| Protocol version | Ver.1.10 |
| External dimensions | Approx. 8.0 (mm) |
| Mass | Approx. 70 (kg/km) |
| Standard Price | |
Contact
[Japan]

JMACS Japan CO., LTD.
Sales Department
TEL:06-4796-0080  FAX:06-4796-0090
Tokyo Office
TEL:03-3239-5204  FAX:03-3556-1240

[China]

Shanghai Ashiya Trading Ltd.
Phone: +86-21-6360-3742
e-mail:shanghai_ashiya@hotmail.com
other:CLPA Partner URL:http://www.sh-ashiya.com

[Korea]

SHINY ELECTRIC KOREA
phone : +82-32-588-2895
e-mail : top@shinykorea.com
other : CLPA Partner
URL: http://www.jmacs-j.co.jp/

Mail: sales@jmacs-j.co.jp

Search for a different product
CC-Link Partner Association (CLPA)
Members Site