CC-Link partner product information
CC-Link|Slave|Miscellaneous
TAIYO,LTD.
Atsukan Servo Controller PQCS2-SCU2-01201*
I realize wiring-saving as soon as IO wiring work cries by CC-Link adoption.
The transmission and reception of the data such as a set point, the present value simpleness.
Feature
Sophisticated Position and Load control by Hydraulic Servo Cylinder.
Table control,Digital control,Analog control various control is possible.
Energy saving effect preeminence by Hydraulic Servo system.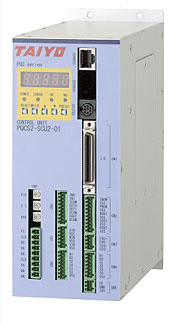 | | |
| --- | --- |
| Station type | Remote Device station |
| Number of stations occupied | 4 staion |
| Protocol version | Ver.1.10 |
| External dimensions | 202 × 78.8 × 130 [mm] |
| Mass | 1 [kg] |
| Standard Price | |
Contact
[Japan]

Department:Research & Development Dept
Phone:+81-6-6340-1101
FAX:+81-6-6340-1164
URL: http://www.taiyo-ltd.co.jp/

Search for a different product