CC-Link partner product information
CC-Link|Device|Digital I/O
KEYENCE CORPORATION
NU-CL1 communication unit that is compatible with CC-Link for digital sensors
Makes it possible to directly connect the NEO Series Digital Fiberoptic Sensor and Digiatl Laser Sensor to CC-Link, which dramatically reduces wiring and enhances usability due to remote operations.
Feature
Less wiring/space: conventional sensor wiring (power supply/output) is no longer necessary, which reduces installation time.
Status monitoring: Sensor status (ON/OFF, intensity, setting values) can be monitored on a touch panel/PC.
Preventive maintenance: detects sensor malfunctions by logging the intensity of the sensor.
Reduced tool changeover time: setting can be changed with remote controls when the types of workpieces change.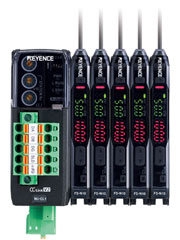 | | |
| --- | --- |
| Station type | Remote Device Station |
| Number of stations occupied | Ver1.10: 1 to 4 stations, Ver2.0: 3 stations |
| Protocol version | Ver.1.10 / Ver.2.00 |
| External dimensions | 78.2(W)x56.4(H)x29.4(D) mm |
| Mass | Approx. 80g |
| Standard Price | |
Contact
[Japan]

Sensor Division, KEYENCE CORPORATION
Telephone: 81-6-6379-1121 Fax: 81-6-6379-1120

[China]

KEYENCE CORPORATION.
TEL:+81-6-6379-2211

[Korea]

KEYENCE CORPORATION.
TEL:+81-6-6379-2211

[Taiwan]

KEYENCE CORPORATION.
TEL:+81-6-6379-2211

[Europe]

KEYENCE CORPORATION.
TEL:+81-6-6379-2211

[US]

KEYENCE CORPORATION.
TEL:+81-6-6379-2211

[India]

KEYENCE CORPORATION.
TEL:+81-6-6379-2211

[Other]

KEYENCE CORPORATION.
TEL:+81-6-6379-2211
URL: http://www.keyence.com/

Product details: http://www.keyence.com/products/sensors/fiberoptic/fsn/fsn.php

Mail: info@keyence.co.jp

Search for a different product
CC-Link Partner Association (CLPA)
Members Site