CC-Link partner product information
CC-Link|Slave|Inverter・Servo systems
SHIBAURA MACHINE CO., LTD.
NCBOY-120 (VLNBX)
NCBOY-120 is a single axis positioner with built-in servo amplifier. Specifications of CC-Link, DeviceNet and RS485 are simplified, making connection with PLC easy.
Feature
With a built-in X series servo amplifier, a compact system with minimal wiring can be configured.
Allowing connecting with various FA devices, high level servo function can be realized.
Number of control axis: One.
Placing emphasis on compatibility with the NCBOY series that has been used, it is designed considering the migration of NC programs and sequence program.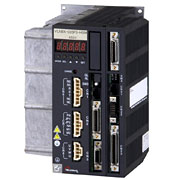 | | |
| --- | --- |
| Station type | |
| Number of stations occupied | |
| Protocol version | |
| External dimensions | |
| Mass | |
| Standard Price | |
Contact
[Japan]

CC-Link Partner Association
6F Ozone-front Building, 3-15-58,
Ozone, Kita-ku, Nagoya 462-0825, Japan
TEL: 052-919-1588 / FAX: 052-916-8655
e-mail: info@cc-link.org
Search for a different product
CC-Link Partner Association (CLPA)
Members Site