CC-Link partner product information
CC-Link|Slave|Inverter・Servo systems
CKD NIKKI DENSO CO., LTD.
AC servo driver VCII series
High function servo driver to enhance the maximum performance of servomotor.
Feature
Wide product line -ups from 50W to 110kW
Variety of tuning functions such as Auto notch filter, limiting filter, 4 kinds of gain selection, High load inertia auto tuning functions.
Feed torque control function is newly add to improve the settlement time.
Other than the standard type servo driver, we have controller type with stand alone positioning function and Free-curve control (Electric Cam) function.
We can offer variety of motor products such as Direct Drive motor and both Induction and Synchronous type AC servomotor.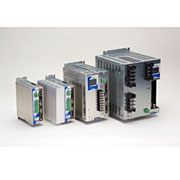 | | |
| --- | --- |
| Station type | Remote device station |
| Number of stations occupied | 4 stations |
| Protocol version | Ver.1.10 |
| External dimensions | |
| Mass | |
| Standard Price | お問い合せください |
Contact
[Japan]

name : CKD NIKKI DENSO CO., LTD.
phone : +81-43-498-2315
e-mail : overseas@nikkidenso.co.jp

[China]

name : 喜开理日机电装株式会社
phone : +81-43-498-2315
e-mail : overseas@nikkidenso.co.jp

[Korea]

현지법인 CKD니키덴소인터내셔날코리아㈜
인천광역시 연수구 인천타워대로 323(센트로드) D311호
Tel:032-831-2133



[Taiwan]

name : 喜開理日機電装株式会社
phone :+81-43-498-2315
e-mail : overseas@nikkidenso.co.jp

[Europe]

name : CKD NIKKI DENSO CO., LTD.
phone : +81-43-498-2315
e-mail : overseas@nikkidenso.co.jp

[US]

name : CKD NIKKI DENSO CO., LTD.
phone : +81-43-498-2315
e-mail : overseas@nikkidenso.co.jp

[India]

name : CKD NIKKI DENSO CO., LTD.
phone : +81-43-498-2315
e-mail : overseas@nikkidenso.co.jp

[Other]

name : CKD NIKKI DENSO CO., LTD.
phone : +81-43-498-2315
e-mail : overseas@nikkidenso.co.jp
URL: http://www.nikkidenso.co.jp

Product details: http://www.nikkidenso.co.jp/new_p/new_p.html

Mail: info@nikkidenso.co.jp

Search for a different product
CC-Link Partner Association (CLPA)
Members Site