CC-Link partner product information
CC-Link|Slave|HMI
Schneider Electric Japan Holdings Ltd.
CC-Link module CA7-CCLALL/EX01 for series GP3000 products
Compatible with intelligent device station CC-Link Ver2.0.
Feature
The cyclic transmission and transient transmission of the CC-Link functions are available for the series GP3000 programmable displays.
Use of the cyclic transmission function enables to monitor all the remote input and output and remote register that are allocated to the master station.
Use of the transient transmission function provides a device access to the PLCs at the master station and two or more local stations.
Enables a handy communications without a program while requiring no memory design.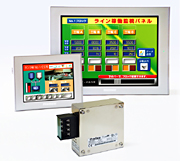 | | |
| --- | --- |
| Station type | Intelligent device station |
| Number of stations occupied | 1 to 4 stations |
| Protocol version | Ver.1.10/2.0 |
| External dimensions | 88.4(W)×91.0(H)×35.1(D) mm |
| Mass | Approx. 300 g or less |
| Standard Price | 58,000円 |
Contact
[Japan]

Please check the following site.
http://www.proface.com/en/contact


[China]

https://www.proface.com/zh-hans/company/branch/china


[Korea]

http://www.proface.com/en/company/branch/korea/seoul


[Taiwan]

http://www.proface.com/en/company/branch/taiwan/taipei


[Europe]

http://www.proface.com/en/company/branch/europe/hq


[US]

http://www.profaceamerica.com/en-US/content/contact-pro-face-america


[India]

http://www.proface.com/en/company/branch/india/bangalore


[Other]

http://www.proface.com/en/contact

URL: http://www.proface.com/

Search for a different product
CC-Link Partner Association (CLPA)
Members Site