CC-Link partner product information
CC-Link/LT|Peripheral devices|Cables・connectors
MITSUBISHI ELECTRIC SYSTEM & SERVICE CO., LTD.
Dedicated flat cable CL9-FL4-18
Feature
Reduced costs
By using the dedicated flat cable, wiring processes can be reduced, and wiring costs can be reduced.
Prevent miswiring
The cable shape is asymmetrical on the front and back so the connector will not snap in if it is connected in reverse.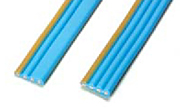 | | |
| --- | --- |
| Protocol version | - |
| Mass | |
| Standard Price | お問い合わせください |
Contact
[Japan]

name : MITSUBISHI ELECTRIC SYSTEM & SERVICE CO., LTD.
e-mail : info@melsc.jp

[China]

For inquiries about products and purchase please mail us at following address.
e-mail : osb.webmaster@melsc.jp

[Korea]

For inquiries about products and purchase please mail us at following address.
e-mail : osb.webmaster@melsc.jp

[Taiwan]

For inquiries about products and purchase please mail us at following address.
e-mail : osb.webmaster@melsc.jp

[Europe]

For inquiries about products and purchase please mail us at following address.
e-mail : osb.webmaster@melsc.jp

[US]

For inquiries about products and purchase please mail us at following address.
e-mail : osb.webmaster@melsc.jp

[India]

For inquiries about products and purchase please mail us at following address.
e-mail : osb.webmaster@melsc.jp

[Other]

For inquiries about products and purchase please mail us at following address.
e-mail : osb.webmaster@melsc.jp
Search for a different product