CC-Link partner product information
CC-Link|Device|Analog I/O
M-System Co., Ltd.
R1C Multi-analog Input Unit
A handheld remote I/O unit realizing a price of 10,000 yen per thermocouple input.
Detected data is transmitted in real values and does not need to be converted.
Feature
Input signals: Thermocouple and DC input, 16 points
Input resistance: 300 kΩ
Thermocouple types: PR, K, E, J, T, B, R, S, C, N, U, L
Sampling cycle: Approx. 150 ms/16 points
Analog input
A/D conversion output data: 16-bit signed binary data (negative values are in twos-complement form).
Actual values in each input range correspond to the A/D conversion data shown in the table below.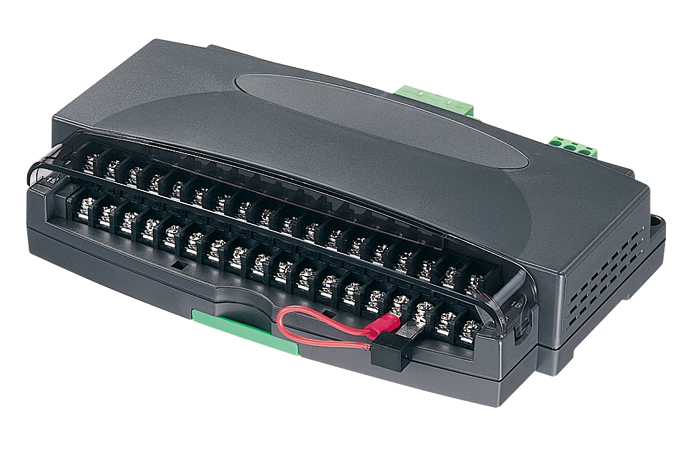 | | |
| --- | --- |
| Station type | Remote device station |
| Number of stations occupied | 4 stations (Ver.1.10), 1 station (Ver.2.00) |
| Protocol version | Ver.1.10, Ver.2.00 |
| External dimensions | W175×H115×D40 mm |
| Mass | Approx. 400 g |
| Standard Price | |
Contact
[Japan]

M-System Co., Ltd., International Sales Dept.
5-2-55 Minamitsumori, Nishinari-ku, Osaka 557-0063
TEL: +81 (0)6-6659-8201
FAX: +81 (0)6-6659-8510

[China]

M-System China Co., Ltd. (Shanghai)
TEL: +86 (0)21-6237-2015, 2016
FAX: +86 (0)21-6237-2017

[Korea]

MG Korea Co., Ltd.
TEL: +82 (0)2-548-8203
FAX: +82 (0)70-8282-8262

[Taiwan]

M-System Co., Ltd., International Sales Dept. (Japan)
TEL: +81 (0)6-6659-8201
E-mail: info@m-system.co.jp

[US]

M-System Co., Ltd., International Sales Dept. (Japan)
TEL: +81 (0)6-6659-8201
E-mail: info@m-system.co.jp

[India]

M-System Co., Ltd., International Sales Dept. (Japan)
TEL: +81 (0)6-6659-8201
E-mail: info@m-system.co.jp

[Other]

M-System Co., Ltd., International Sales Dept. (Japan)
TEL: +81 (0)6-6659-8201
E-mail: info@m-system.co.jp
URL: https://www.m-system.co.jp/english

Mail: info@m-system.co.jp

Search for a different product
CC-Link Partner Association (CLPA)
Members Site