CC-Link partner product information
CC-Link|Device|Gateway
OMRON Corporation
GQ-CRM21 CompoNet Gateway Unit for CC-Link
"Easy" and "Flexible" system expansion with linked CC-Link and CompoNet
Feature
Branching is easily made with CompoNet. Wiring material cost can be reduced.
Bit-level I/O distribution reduces wiring in the system.
A wide variety of CompoNet Slave Units contribute to system size reduction.
Seven-segment Display on the Gateway Unit helps to detect errors on site.
The Participation Flags and Communications Error Flags can be checked at the Host Controller to detect the location and content of the error.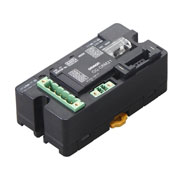 | | |
| --- | --- |
| Station type | Remote Device Station |
| Number of stations occupied | 4 stations |
| Protocol version | Ver.1.10/Ver.2.00 |
| External dimensions | 95(W)×50(H)×37.9(D) |
| Mass | 0.11kg |
| Standard Price | 60,000円 |
Contact
[China]

OMRON INDUSTRIAL AUTOMATION (CHINA) CO., LTD
Phone: +86-21-50372222

[Korea]

대리점 동림전기제어(주)
경기도 수원시 권선구 고색동 912-11
Tel:031-292-6141~4


[Taiwan]

OMRON TAIWAN ELECTRONICS INC.
Phone: +886-2-2715-3331

[Europe]

OMRON EUROPE B.V.
Phone: +31-23-56-81-300
HQ: The Netherland

[US]

OMRON ELECTRONICS LLC
Phone: +1-847-843-7900

[India]

OMRON AUTOMATION PRIVATE LIMITED
Phone: +91-80-4146-6400/01

[Other]

OMRON ASIA PACIFIC PTE. LTD
Phone: +65-6835-3011
HQ: Singapore
URL: http://www.fa.omron.co.jp/index.html

Search for a different product
CC-Link Partner Association (CLPA)
Members Site